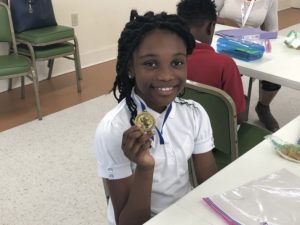 So yesterday, Brooklyn Rimmer, a fifth grade student, walked in to our program wearing a gold medal around her neck. I walked over by her and asked what the medal was for and she had no problem sharing her accomplishment…
State testing and state test results are used for many things. While I would like to report that most of those things are positive, that would be a lie. As a matter of fact, our state, as well as a few others, use these results in determining the prison pipeline and negative outcomes.
Brooklyn was awarded this medal for not only being one of the top students in her grade but for outperforming the standards that the state has set. She didn't just outperform either, she "killed it." We are so proud of her and we felt that you would be too!