C2k Ministries Inc. Helping Students Finish the School Year Strong
The Bolivar Bullet– written by Scott Coopwood
What started as a passionate idea of one couple over sevens ago has blossomed into something more than they could have imagined. Phil and Kym Schank started C2k Ministries Inc. with a purpose and mission to develop programs to help kids fight intergenerational poverty.
RE>DIRECT, a holistic after-school program, is one such initiative and has been working with students for the past seven years. RE>Direct expanded their scope from primarily working in the North Bolivar Consolidated School District to now working with students from Bell Academy, Pearman Elementary, and Nailor Elementary.
"Our focus remains on our students from Mound Bayou and our direct surrounding areas," comments Phil Schank, President of C2k Ministries.
"During the COVID-19 outbreak, we had to make several changes, and they are working," says Schank. "We could no longer meet at the building, so we had to get creative," he continues.
The RE>DIRECT team consists of five current Mentor Specialists; Joyce Pitts, Edna Bland, LaTonya Fields, Sandra Kemp, and Linda Dorsey.
Schank and the team (Mentor Specialists) had a video conference with Principal Miller of I.T. Montgomery Elementary School in Mound Bayou to discuss ways to keep kids engaged in their school work. After that meeting, the team decided to go to work, and the results have been incredible.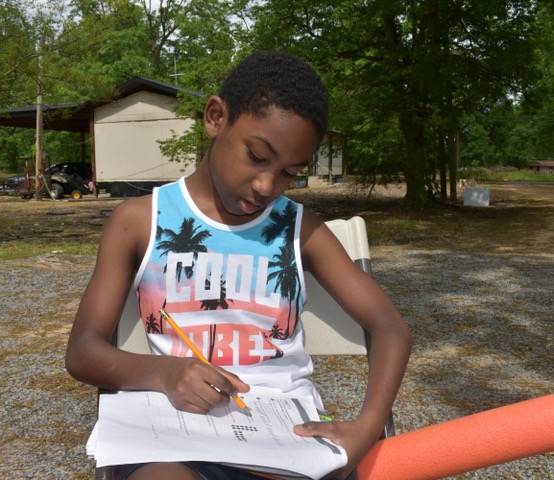 "Our Mentor Specialists went to the schools, picked up the study materials, and hand-delivered them to each student," Phil said. "Our team let both parents and students know that we would be checking in to see how their homework is coming and to help answer questions," Phil continues.
Guess what?
It worked! Daily, the RE>DIRECT team is meeting with students in person or over the computer or phone to help with homework, care for them, and help in any way possible and the parents have responded.
Listen to the comments from one parent, Genevlyn Norris, who had this to say, "My son Christian Norris attended C2K Ministries after school program, and I would first like to thank everyone who is involved with the program. You guys are the best. I would like to send a special thank you to my son's "teacher", Mrs. Pitts. She is such a nice and caring person. She constantly checks on Christian and continues to help with his school work (in person and over the phone). She takes her time with him and makes sure that he has an understanding of his work. Since she's been working with him, he is more confident in himself and completing his school work. Christian and I are both very grateful for her. Thank you all so much!"
"Our program is in high demand because we get results," comments Schank. "We are not a baby-sitting service. We are a program designed to help develop successful future leaders that change communities, organizations, systems, and the world," Phil continues.
Every year they have had the program there has been a waiting list of between 15-20 students. "We have strong incentive programs for students to do well. We expect our students to perform at high-levels, and most kids rise to the occasion," Phil comments.
"It is amazing what can happen when you look a student in the eyes and tell them that you believe in them and that they can do this," Schank says. "We encourage them to rise to the individual that God created them to be. When we believe in them, they start to believe in themselves, and that changes everything," Phil continues.
Mrs. Joyce Pitts, one of our Mentor Specialists, recently commented about this experience, "Mr. Phil, I want to express to you and Mrs. Kym, my appreciation for your GREAT leadership. Look at ALL the positive heartwarming rewards we would have missed if you all hadn't suggested that we keep in contact with our students during this pandemic. GREAT VISION!!!"
On a recent trip to see one of their students, Kingston Tucker, Edna Bland, Mentor Specialist had these comments, "I went to Kingston's house on Thursday and saw Kingston and his cousins outside playing. This brought back for me kids just outside playing and not worrying about a virus we're facing. They were playing with the dog and Kingston said, 'Ms. Bland, I did not see you,' and introduced his cousins. Even though, the question will always be asked about homework; these children just enjoy someone coming to their house to visit. Kingston's adult cousin asked, 'You are here to see Kingston and the the answer was yes.' And his reply was, 'That's great.'"
The impact that RE>DIRECT and C2k Ministries are making in their communities is profound.
As with a growing program, there are growing pains, one of which is expansion. "God didn't call us to do small things with our time. He called us to do something BIG," comments Schank.
"We have several other programs and ideas that require a building of our own. Currently, we have the land, but we need the funding for the Youth Center," Phil says. "With it, we can expand our programming to include more students, start our Leadership Development Program, Delta Music Academy, among others. We have big plans, and we have a big God," says Schank.